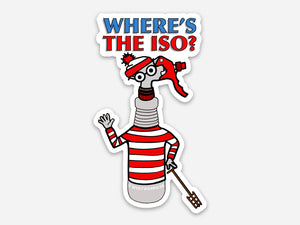 "WHERE'S THE ISO?" 1.7" x 3" DIE CUT STICKER
UPDATE: ALL PROFIT WILL GO TO THE PEOPLE IN MAUI. Pre-order will be shipping end of month or early next month. It will ship sooner if you didn't order a Pin. 
Want to be passive aggressive about people misplacing the f*cking ISO bottle? Or simply want to make a statement about the ISO bottle never being where it's supposed to be? Well have I got the sticker efor you! Designed to be on every ISO bottle in the WORLD! Grab one or 10 today.